METS 2014 Meets Expectations
(Hong Kong, 10 July 2014) The inaugural METS – Machinery, Equipment, Technology and Supplies for Jewellery & Watch Industryorganized by the Hong Kong Jewellery & Jade Manufacturers Association (HKJJA) was brought to a decent close on 28 June 2014 at AsiaWorld-Expo, Hong Kong. The premiere trade show of a kind in Hong Kong has brought in a satisfactory amount of quality buyers from neighbouring regions. The enthusiastic comments of exhibitors and the comprehensive coverage by global media have underlined the position of METS 2014 as one of the most significant professional shows of a kind in Asia.
In the course of four days commenced on 25 June, METS 2014 presented a wide selection of state-of-the-art equipment and innovative supplies for jewellery and watch making from 11 countries and regions namely Italy, Turkey, China, Thailand, Germany, India, UAE, Japan, Korea, the United States and Hong Kong. "Thanks to the arduous efforts exerted by the show management and the great support of local and overseas practitioners and fraternities, METS 2014 had a smooth and successful start," said Benedict Sin, chairman of HKJJA.
Industry gurus including Seoul-based Sein Corporation and Yuen Kee Bullion Accessories Co, Ltd from Hong Kong reported brisk sales. According to several machinery and equipment suppliers, a number of orders were secured on-site besides serious enquiries.
Official Opening
The opening ceremony on 25 June 2014 was officiated by Mr Henry Wai, Founder and Honorary Life Chairman of HKJJA, Mr Charles Chan, BBS, JP, President of HKJJA, Mr Benedict Sin, Chairman of HKJJA, Mr King Li, Honorary Chairman of HKJJA, and Mr Billy Lau, Advisor and Director of HKJJA. A live lion dance performance was staged after the ribbon-cutting ceremony.
Concurrent Events
Two carefully-designed seminars were scheduled for 26 June 2014 to address some of the prominent issues in modern jewellery business: (1) "Protect Your Property & Staff Safety in a Professional Way" presented by Anglo East Group; (2) "Portable XRF Quality Control in Jewellery Industry" presented by Silver & Gold Co Ltd.
METS 2014 Report Sheet
Organizer

Hong Kong Jewellery & Jade Manufacturers Association, HKJJA

Date

25-28 June 2014

Venue

Hall 3, AsiaWorld-Expo, Hong Kong

Supporting Organizations

Hong Kong Trade Development Council
Hong Kong Productivity Council
The Hong Kong Council for Testing & Certification
Hong Kong Science & Technology Parks
Hong Kong Tourism Board
Meetings & Exhibitions Hong Kong – MEHK
Guangzhou Panyu Jewelry Manufacturers Association
All-China Chamber of Commerce for Jewelry & Precious Metals Industry – CCJP
JA New York
Dubai International Jewellery Week
Thai Gem & Jewelry Traders Association
The Gems Jewelry & Precious Metal Confederation of Thailand
Israel Jewelry Manufacturers' Association
Guangdong Golden Jewelry and Jade Industry's Association
Shenzhen Gold Jewelry Association

Total no of Exhibitors

93

Countries/Regions

11 (Italy, Turkey, China, Thailand, Germany, India, UAE, Japan, Korea, the United States and Hong Kong)

Pavilions

2 (Europe & Thailand)

Photos

ftp://219.76.225.132/home
Login: Press1
Password: Ps1METS2o14
Profile of Exhibitors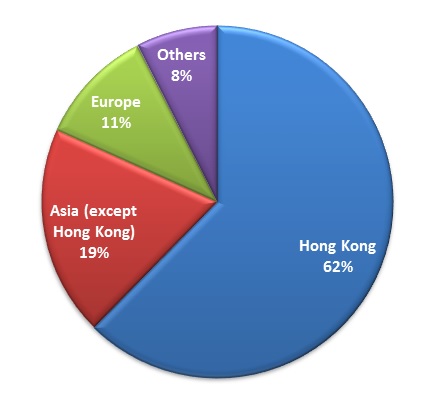 For Press inquiries
Mr Fiorence Chan (fiorence@hkjja.com.hk)
Mr Ken Cheung (kcheung@hkjja.com.hk)
Tel: (852) 2543 0543
Fax: (852) 2815 0164
Organizer

Established in 1965, HKJJA is one of the most influential jewellery trade organizations in Hong Kong representing nearly 400 fine jewellery manufacturers. The Association took the lead to promote the Hong Kong jewellery industry abroad by organizing group participation at the JA New York show in 1969. Since then HKJJA's Hong Kong Pavilion has become a major segment of renowned jewellery exhibitions in the United States, Italy, Thailand, Ukraine, the UAE and Hong Kong.
METS 2014 www.METS.hk
HKJJA www.JJA.com.hk

Photo captions
| | |
| --- | --- |
| Filename | Captions |
| Opening 1 | Mr Benedict Sin, chairman of HKJJA, delivers a welcome speech at the opening ceremony on 25 June 2014. |
| Opening 2 | (From left) Mr Victor Chan, HKJJA Vice-Chairman, Mr Mark Ho, HKJJA Vice-Chairman, Mr Billy Lau, HKJJA Advisor & Director, Mr Benedict Sin, HKJJA Chairman, Mr Henry Wai, HKJJA Founder & Honorary Life Chairman, Mr Charles Chan, BBS, JP, HKJJA president, Mr King Li, HKJJA Honorary Chairman, Mr Sam Gin, HKJJA Vice-Chairman, Mr Ken Lo, HKJJA Vice-Chairman, Mr Danny Chau, HKJJA Vice-Chairman |
| Opening 5 | Mr Henry Wai (centre) puts a flower on the lions' heads. |
| Opening 6 | Mr Benedict Sin (second left) and Mr Charles Chan, BBS, JP (fourth right) dot the eyes of the lions. |
| Opening 7 | Mr Billy Lau (fifth left) and Mr King Li (fourth right) tie a red ribbon on the lions' heads. |
| Opening 12 | (Left) Mr Henry Wai and Mr Charles Chan, BBS, JP |
| Opening 13 | (From left) Mr Sam Gin, Mr Mark Ho, Mr Danny Chau, Mr Charles Chan, BBS, JP, Mr Henry Wai, Mr Huang Guizhao, Chairman of CCPIT Guangzhou Huadu Sub-Branch, Mr Benedict Sin, Mr Somchai Phornchindarak, President of Thai Gem and Jewelry Traders Association, Mr Ken Lo. |
| Opening 14 | (From left) Mr Henry Wai, Mr Somchai Phornchindarak, Mr King Li |
| Opening 15 | (From left) Mr Willie Yiu, Director of Brilliant Trading Co. (1974) Ltd, Mr Billy Lau, Mr C M Poon, Managing Director of Anglo East Group, Mr Charles Chan, BBS. JP |
| Opening 16 | (From left) Mr Billy Lau, Ms May Wong, HKTDC Manager, Sales (Exhibitions), Mr Wu Chor Nam, Chairman of Wu Leung Lee (Man Yick) Jewellery Co |
| Main entrance | The main entrance of METS 2014 |
| Registration | Buyers from neighbouring regions visit METS 2014 for the latest technology and advanced equipment for jewellery and watch marking. |
| Seminar | Mr C M Poon of Anglo East Group (left) hosts a well-attended seminar on how to protect property and staff safety in jewellery operations. |
Back